EXHIBITION OPENING HOURS
Wednesday, 13 October 10 am – 5 pm
Thursday, 14 October 10 am – 5 pm
Friday, 15 October 10 am – 4 pm
MESSENS ÅBNINGSTIDER
Onsdag 13. oktober, kl. 10 - 17
Torsdag 14. oktober, kl. 10 - 17
Fredag 15. oktober, kl. 10 - 16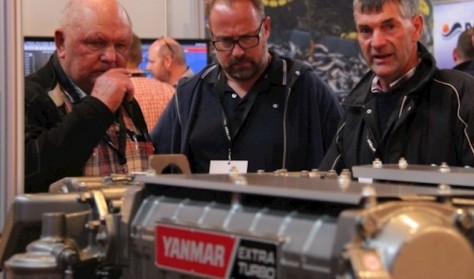 For visitors       

DanFish International 2021 is one of the world's most important exhibitions for equipment for the fishing industry and an international meeting place for all players in the field.

Are you a fisherman, skipper, shipyard, boat builder, engineer, architect, representative from a port or something else? and if you are looking for new suppliers, you want to make new contacts or nurture existing ones, and if you want to see innovative and new ideas on the market, then a visit to DanFish International can inform and inspire you.

Here you can meet 400 exhibitors from 30 countries, who present news in: nets, trawl, ropes, wires, engines, marine electronics, navigation and communication equipment, conveyors, life-saving equipment, and much, much more.

When you sign up for the fair, we will keep you updated on upcoming Danfish fairs via newsletters per. email.
If you do not want the fair's newsletter, you can opt out before submitting your registration and you can unsubscribe easily and free of charge at any time.

 Admission ticket to the exhibition can be purchased at the entrance, but to save time and money you may pre-register now. Payment at the entrance can be made by cash (DKK, NOK, SEK, EUR) or international credit cards.

 

Early bird prices
(before Tuesday 12 October at 6 pm)

Day Ticket – DKK 100 (DKK 150 at the entrance)

3-Day Ticket – DKK 200 (DKK 300 at the entrance)

Credit card fee will be added.

 

In AKKC we follow all COVID-19 guidelines.




For besøgende

DanFish International 2021 er en af verdens mest betydningsfulde messer for udstyr til fiskerierhvervet og et internationalt mødested for alle aktørerne på området.

Er du fisker, skipper, skibsværft, bådbygger, ingeniør, arkitekt, repræsentant fra en havn eller andet? - og leder du efter nye leverandører, vil du skabe nye kontakter eller pleje eksisterende, og vil du se innovative og nye idéer på markedet, så kan et besøg på DanFish International informere og inspirere dig.

Her kan du møde 400 udstillere fra 30 lande, som præsenterer nyheder inden for: Net, trawl, tov, wire, motorer, elektronik, navigations- og kommunikationsudstyr, opbevaringsudstyr, procesudstyr, redningsudstyr og meget, meget mere. Også servicesektoren vil være rigt repræsenteret på messen.

Når du tilmelder dig til messen, vil vi holde dig opdateret om kommende Danfish messer via nyhedsbreve pr. e-mail.
Hvis du ikke ønsker messens nyhedsbrev, kan du fravælge det inden du sender din tilmelding, og du kan til enhver tid nemt og gratis afmelde nyhedsbrevet.

Adgangsbillet til messen kan købes ved indgangen, men du kan spare tid og penge ved at købe billetten allerede nu. Betaling ved indgangen: Kontant (DKK, NOK, SEK, EUR), betalingskort eller mobile Pay.

 

Priser ved registrering på forhånd
(inden tirsdag 12. oktober kl. 18.00)

Dagsbillet – DKK 100 (DKK 150 ved indgangen)

3-dagsbillet – DKK 200 (DKK 300 ved indgangen)

Der tillægges betalingskortgebyr

 

I AKKC følger vi alle retningslinjer ifm. COVID-19.